The trip over to Germany was somewhat long. Mostly because of a 6 hour layover in Amsterdam. We had gone carryon for the entire trip having to look after our bags in Minneapolis, Chicago, and Amsterdam only to find out that we would need to check the back for our last one hour long flight to Stuttgart. This was unfortunate because waiting for our bags at our final destination was the thing we were trying to avoid. Not a big deal though as our bags eventually came popping up out of the baggage carousel. As we left baggage claim we were met by Erin's family. Her Great Uncle Rolf, his wife Hulda, his son Klause, and Klause's girlfriend Sabrina were all there with smiling faces. They helped us get our rental car picked up and then escorted us back to Rolf and Huldas house about 45 min away in Ensingen. They have a beautiful house with a garden and a cherry tree. We were able to steal a few of the ripe berries while we were there. We had some tea and visited for about an hour, but then needed to get back on the road as we were planning to be in Trier for the evening. It was great to meet Erins family and we are excited to see them near the end of our trip.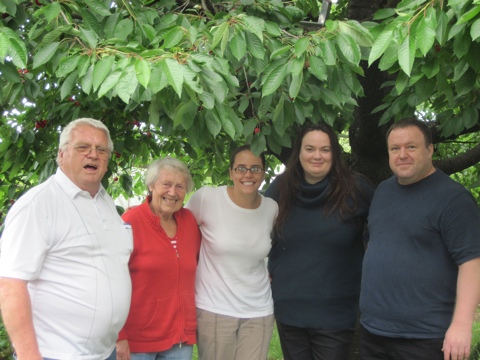 Driving to trier was fairly easy with the assistance of the GPS telling us which way to go. We were driving on the Autoban for much of the journey which wasn't too bad. If you haven't driven here yet, my only advice is if you do venture into the left lane to pass someone make sure you check your mirrors as cars can come flying up from behind quite quickly. It sounds like in Germany its pretty much never okay to slow these individuals down so getting quickly back into the right lane is always a good idea. I do enjoy not having a speed limit however, I think I was pushing our little Ford Fiesta to its limits.
We arrived in Trier around eight in the evening. Inkari and Peter were gracious hosts and took us out for a quick walk that brought us by an old Roman colosseum. It is amazing to live an an area that has history that goes so far back. We then headed up the side of a hill that gave a great view over the city of Trier. It is set down in a river valley with vineyards covering the sides of the surrounding hills.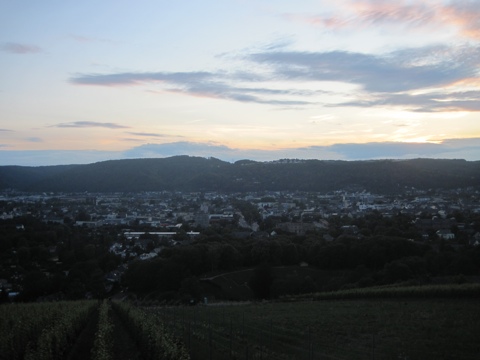 After our walk we came home and Inkari had dinner ready for us. It was nice to sit down and visit with our hosts over a nice dinner and relax after a long bout of traveling.