Well this little feat has been a long time coming.  For those of you who have worked with me in Unalakleet you probably have heard about my aspiration of using the poster printer to print my boarding pass.  Well two days ago my dream became a reality.  I logged onto nwa.com and checked in for my flight.  Selected my seats and chose the option to print my boarding pass.  Well as you know Mac computers make it super easy to print things as a PDF file instead of to a printer.  So thats what I did.  I was on two different flights and both boarding pass tickets were on the same page stacked on top of each other.  This wouldn't do I need each boarding pass to be on a different print out to really dramatize the "Big Boarding Pass".  So I took a screen shot of each individual one and then took them over to the poster printer.  Each one printed out to be about three feet wide and about 1.5 feet tall.  I put them in a picture tube and flew to Anchorage.  My flight was on Hageland which doesn't require a boarding pass, so none needed for the first leg of my trip.
After my arrival at Anchorage I got my bags checked and headed to the TSA security screening area.  Rebecca tagged along to take some pictures from a distance as I made my way through security.  I flashed my MVP card to the first TSA lady who let me into the MVP line without the need for my boarding pass.  Then it came to the person that checks your ID with your boarding pass just before the screening area.  Here is how it played out.
The TSA agent asked for my I.D. and boarding pass.  I handed him my I.D. and then unrolled the boarding pass.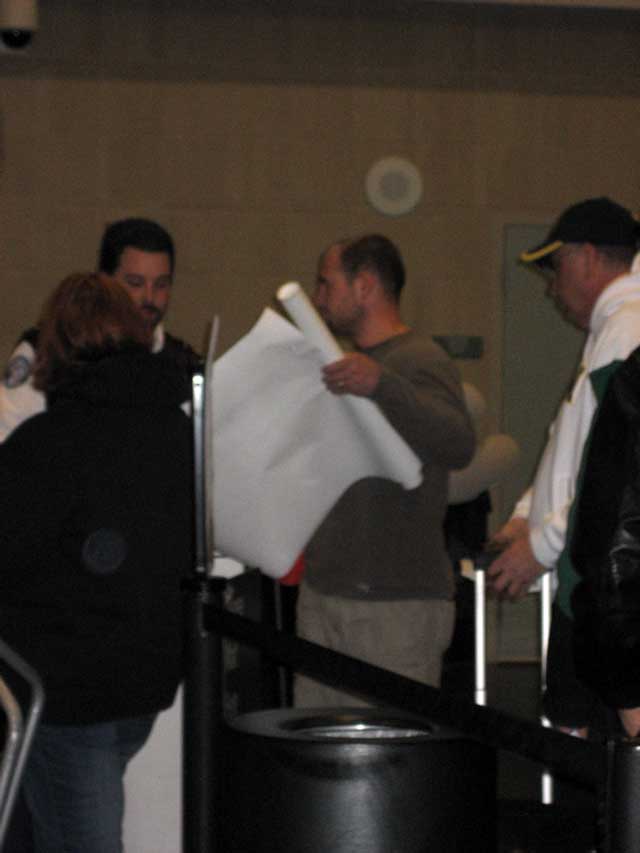 After a look of surprise he said "Is that your boarding pass?"  I told him "Yeah… I didn't have any other printer at work, and was running late for my flight".  He told me to stand back and called on his radio for his supervisor.  He took my boarding pass and headed back toward the main TSA desk which was on the other side of the metal detector.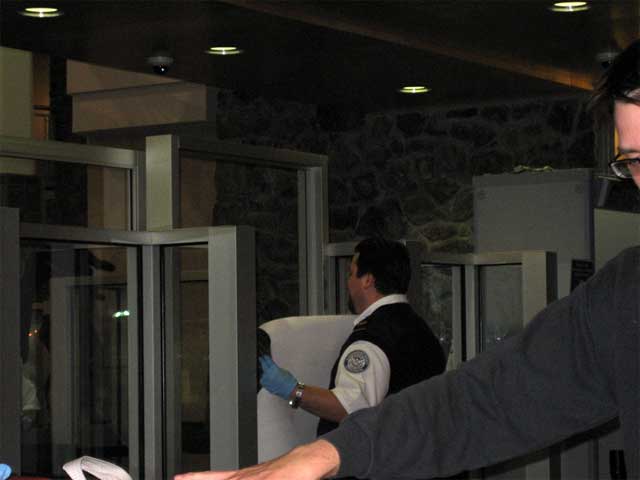 The supervisor came over and they exchanged a few words.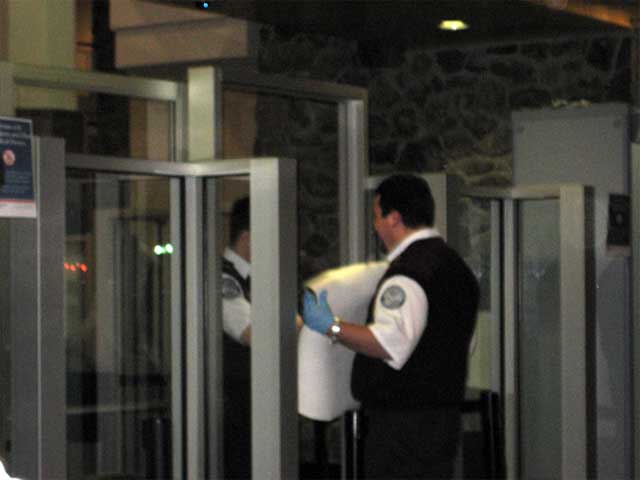 He came back to me and said "Okay… You are going to need to carry this through the metal detector with you."  and he let me on through with a smile.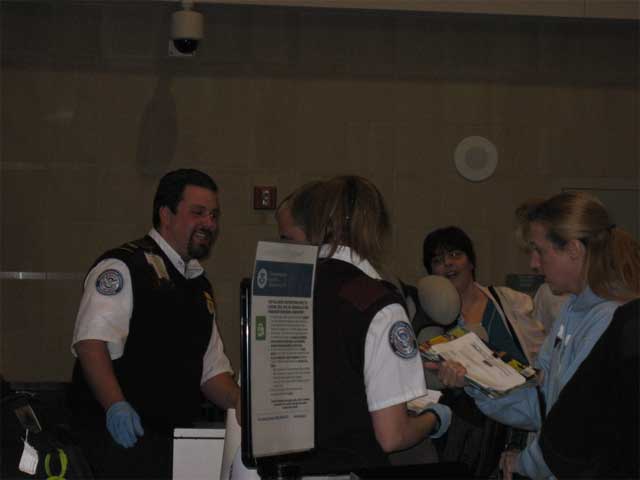 I made it through the metal detector, and didn't even get an extra pat down or anything.  So that was nice.  My backpack needed another scan.  It usually does with the pleathra of hard drives and extra batteries that I always have with me.  So while that was happening a TSA agent came over and asked if he could look at the giant boarding pass.  I handed it to him.  He took it back to their little area and laid it out on a table.  He called over all of his TSA buddies and they all hovered over it checking it out.  I heard comments like..
"Thats an official boarding pass?"
"yeah..  Look it has everything, just really big"
"Man.. how'd he get it so big?"
"He must be an architect or something."
I finally got my backpack and headed over their way.  They all had smiles on their face and said that I was very original.  I told them I was hoping to lighten their day a bit, and thanked them for having fun with it.  Here is a picture with one of the TSA guys.
I then headed down to my gate.  When I got to the check-in place. The agent asked for my boarding pass.  I unrolled it and he started laughing.  Mentioned somthing about not being able to scan that and just typed in my seat number and told me to have a nice flight.
After my extremely long flight down to Minneapolis I headed into the World Club (NWA's rendition of the Board Room).  When you enter their facility with an Alaska Airlines board room pass you need to show them a NWA ticket to get in.  So I handed them my board room card and unrolled my boarding pass on the counter.  The two ladies looked at each other and started laughing.  They called over the other people working in the world club over to take a look.  They asked me if I had won a trip or something.  I told them that I was just doing it to get a smile out of people.  They laughed and told me to have a nice day.  One of them said that they'd like to see the gate agent try to scan that thing in.
After my 4 hours of sitting in there waiting for my final flight, I headed over to my gate.  When I went to check in there I unrolled my other ginormous boarding pass, and the lady just started laughing and said "is this for real?".  I told her that it was and so she punched in my seat number into the computer just like the last one had and said "can I have that?".  I said "sure, can I get a picture with you?".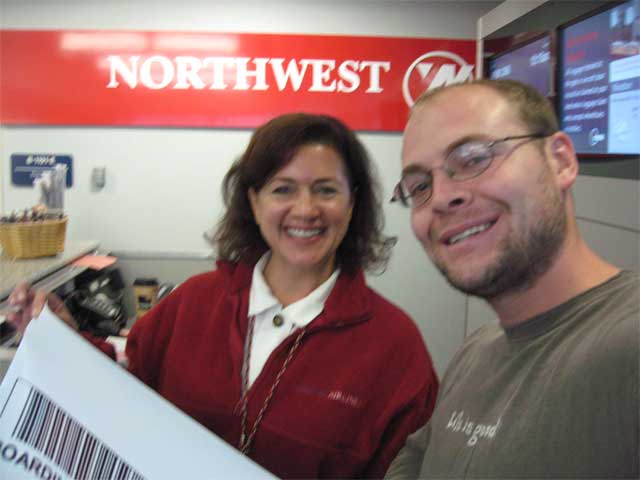 So it turned out to be a good trip.  Everyone involved really seemed to enjoy the whole thing.  I wish I could have gotten a little video of the encounters, but that would have been pretty difficult to pull off all by myself.
I hope you enjoy the story.  It made my long journey just that much better.