Its been a while since my last post.  The days of snow covered ground have dicipated into the soggy soil below.  As the ice melts away from the shore we've scurted along the the mirror smooth water in our aluminum canoe.  The ice moves around in the wind and can cut you off if you are out for too long.  The aluminum canoe allows us to be mini ice breaking boats if we do get a little trapped.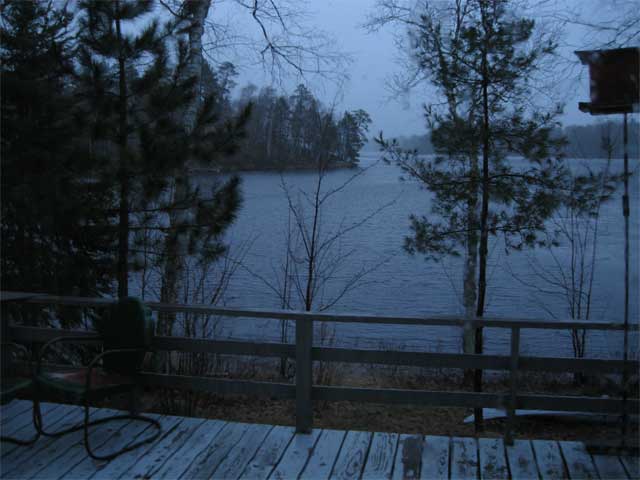 With all this rain coming down and some milder temperatures I am getting more and more anxious to be finished with school.  I have 24 more days with kids and 25 more days of work.  Not like I'm counting.  I really can't wait for our trip to Austrailia.  It will be nice for Erin and I to get out and about again.  We had a balst over in Ireland, and I think three weeks in a little camper will be a perfect way to start our summer break.  We will be in Southern Australia, so it won't be a tropical vacation being their winter and all, but watching the penguins run up on shore and checking out the occasional winery will be very relaxing.
We went down to Baxter yesterday for Axton's second birthday party.  He sure is getting big.  It was nice to catch up with the Svirs.  They have another little one on the way, so they will be busy for sure when the new one comes along.  Wonder what Axton will think of having a younger sibling.
On a sad note, my little dell mini bit the dust today.  I had it set up taking a time lapse for the last 5 days.  It was taking a picture every 5 minutes and when it did it would make a little beeping noise.  I woke up this morning and didn't notice the beep at all through out the day, so I went over to check on it.  The screen was black and usually it would have the screen saver going, so I tried to move the mouse and no go.  I did some further checking and after a little chat with Dell support Im sending it back in sometime this week.  So for my first Dell purchase this doesn't boad so well.  Im thinking its just the power board in the laptop that went bad preventing it from powering up the battery or running the computer.  So it shouldn't be too difficult to fix.  It'll be interesting to see if the time lapse was saved at all.  We'll see I guess.  The support guy said that the turnaround time would be about 7 – 10 days, so we should have it back in time for our trip to Australia.  I'll update you when I find out more.
Well time to get to my school work done.  Have a great week.