Well, I made it into Unalakleet just fine on Pen Air.  I totally lucked out and got to fly on the BIG plane.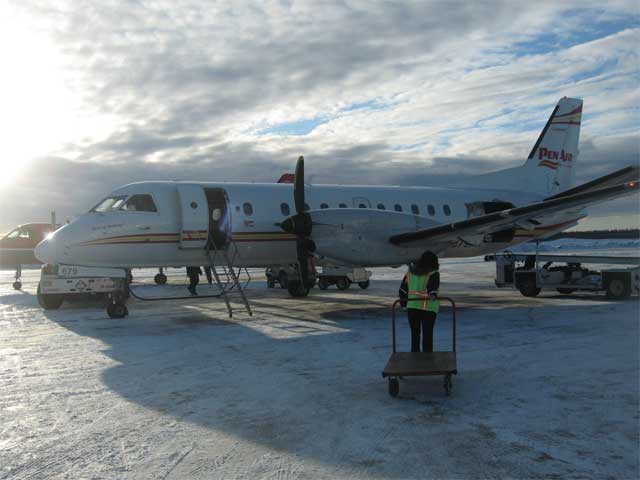 As I walked into the terminal though I was informed by the Bering Air agent that they didn't have any room for me.  So I called up Hageland and they said they weren't going to St. Michael this evening.  So then I called Teresa over at the district office and told her about my perdicament and she said hold on I'll call you right back.  She called back about three minutes later and informed me that I was going to be on a Hageland flight.  So Ted and Damon drove me over to the Hageland terminal and I got my bags checked in.  They told me the pilot was going to fly up to Koyuk and Shaktoolik before taking me to St. Michael.  So I went over to the district office for about an hour and visited with the folks over there.
At 5:00 I got a ride back over to the Hageland terminal and hopped on this sweet ride a Cesna 207.
We flew right over the frozen ocean on our 30 min flight with what little light left in the day disapearing quickly.  The pilot did remark how nice it was that at a quarter to 6 in the evening that it was still light out.
I will start shooting video tomorrow morning and then get a ride the 13 miles over to Stebbins.  More to come on how that all goes tomorrow.
3 Comments
Leave a Comment