I left Shaktoolik this afternoon around 3:00.  I had a nice time there with the staff. I was able to shoot some nice video over there.  Here is a photo of me about to get on the plane.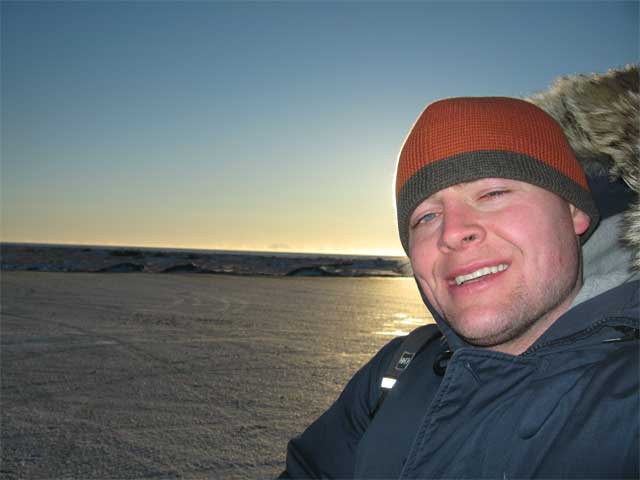 It has been pretty chilly out.   Roughly 30 below with the wind chill.  My fingers have been pretty cold trying to run the video camera.  I can't wait for the replacement bag to come in.
I got to Koyuk and helped the Bering Air agent unload and load the plane.  After helping him finish that up I asked the agent if he'd mind giving me a ride down to the school.  So we loaded up the sled and I hopped on the back of the 4-wheeler and off we went.  After getting to the school I borrowed the truck to go shoot some video of the sunset around town.  Here is a photo I shot of the sun going down.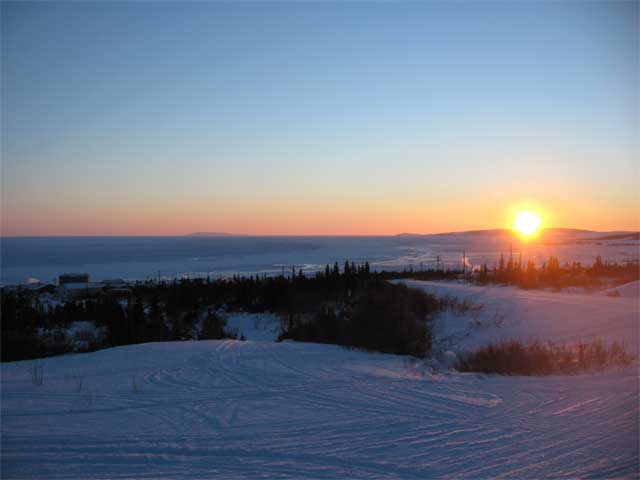 So it was nice to be out and about, but also nice to head back into the warm school.  Elim's boys basketball team was there for a game at night.  I hung around the school and shot some video of the game and talked with some of the teachers.
Kevin (the principal in Koyuk) was nice enough to have me crash at his place.  Steve the Elim principal is also over staying here.  We all watched October Sky on a projector which was nice.  It has gotten awfully late and I'm a tired kid.  I hope that I can get some nice sleep tonight.  For some reason I'm already tired out on this trip.  Its only the beginning and for some reason I'm really dragging.  Hope it picks up for me.  🙂
3 Comments
Leave a Comment