It was an amazingly sunny day out today.  This afternoon I donned Jim's mukluks and snowshoes and Erin and I headed out across the lake.  The snow was crunchy on top sounding like glass shattering on each step.  We got a little ways from the house and looked back to see our tracks in the snow.  This is one of my favorite things about snowshoeing.  You can really see your progress with just a glance over your shoulder.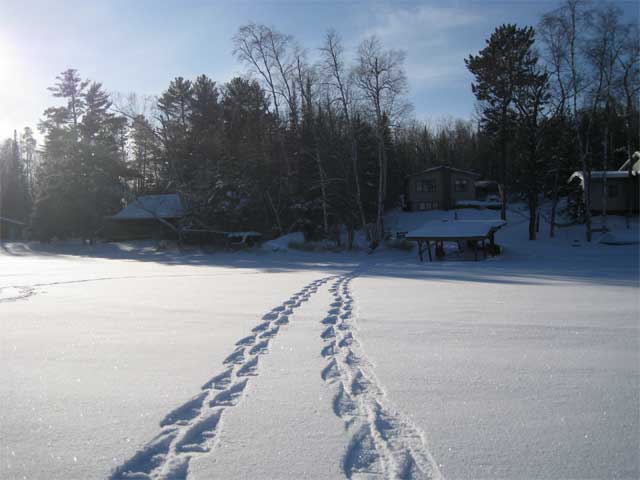 We continued down the lake towards Black Bay.  We weren't planning on going all the way there.  We really didn't have a goal in mind, but were kinda thinking about checking out a trail called "Slim Chance" which we usually get to by boat in the summer and fall.  On our way It was fun to see the relatively untouched snow covering the lake in front of us.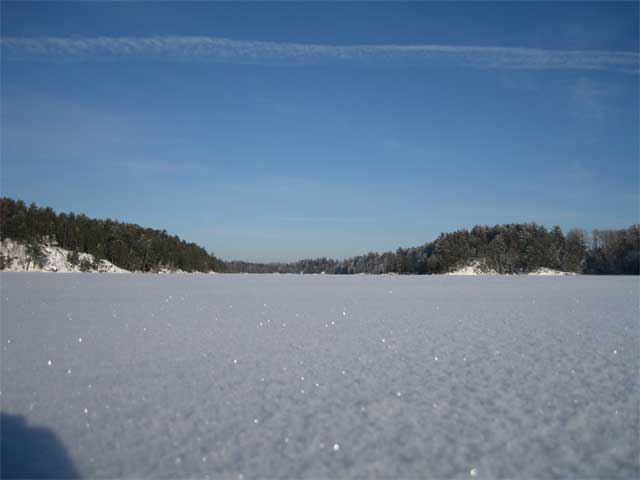 We continued down the lake enjoying the frosted trees everywhere and the snow covered docks.  Its kinda nice here in the winter it gives you the feeling that you are the only ones on the lake.  Most of the houses are summer use only.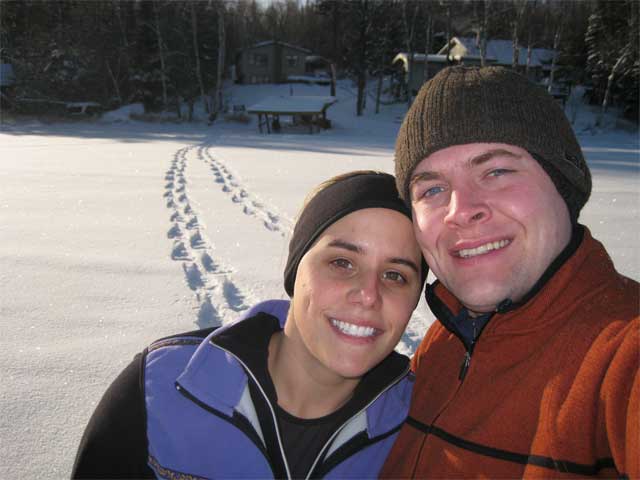 We did make our way out to Slim Chance and hopped onto the trail.  Erin snapped this photo of me heading up the trail.  It was a little up hill, but the snowshoes did their job of keeping us on top of the snow.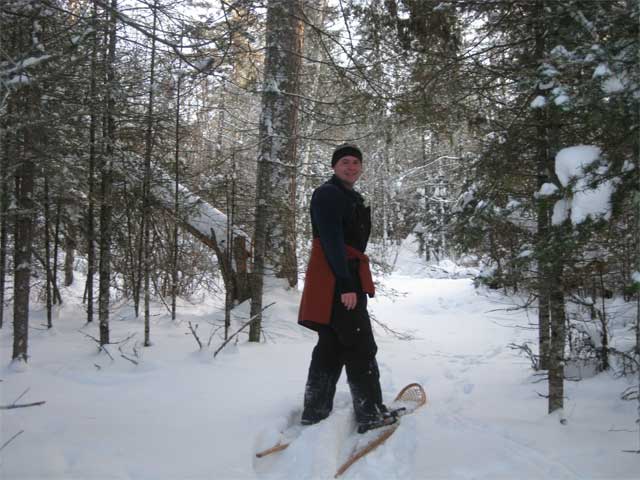 We continued down the trail stepping over fallen trees and actually crawling under one.  Erin got a little tripped up stepping over one.  The cool thing is it doesn't even look like she fell, it looks more like she is posing for a photo in the snow.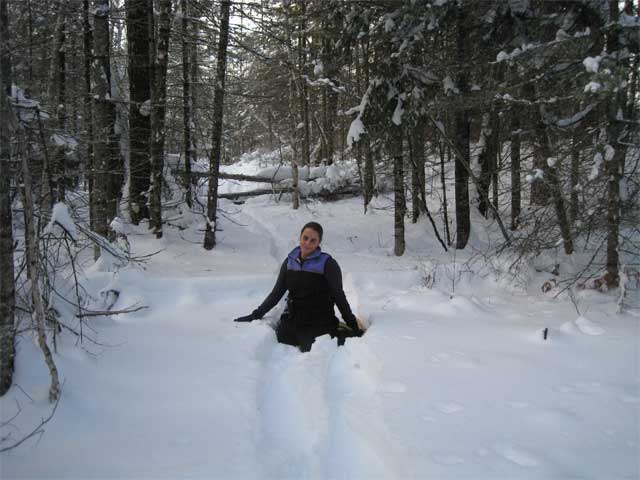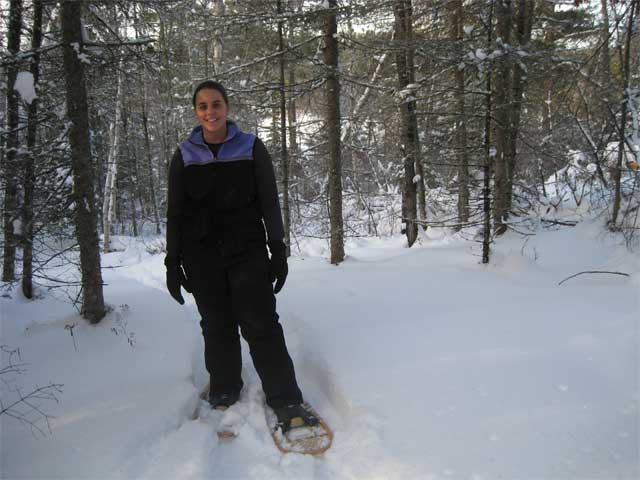 Along the trail there was a tree with a huge shelf fungus stuck to its side.  I've seen a lot of these, but not many this big.  I didn't touch it, but if you do touch the bottom with your bare fingers it will stain the fungus where ever you touch it.  You can essentially write on them with just a finger.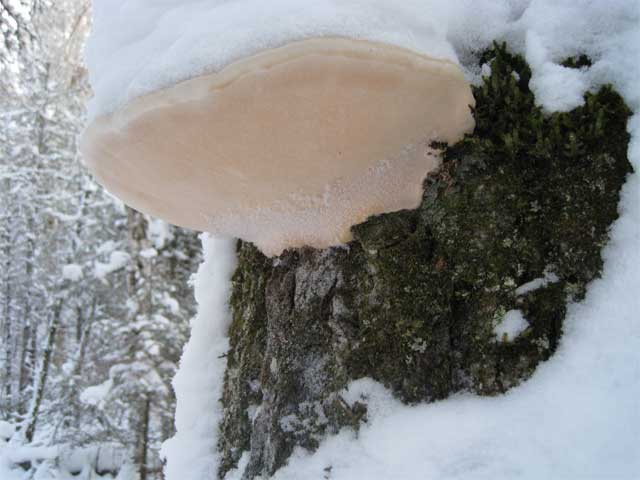 Once we were on the trail it was really cool to look up through the trees above watching the blue sky shine through.  It really is a very different atmosphere between summer and winter.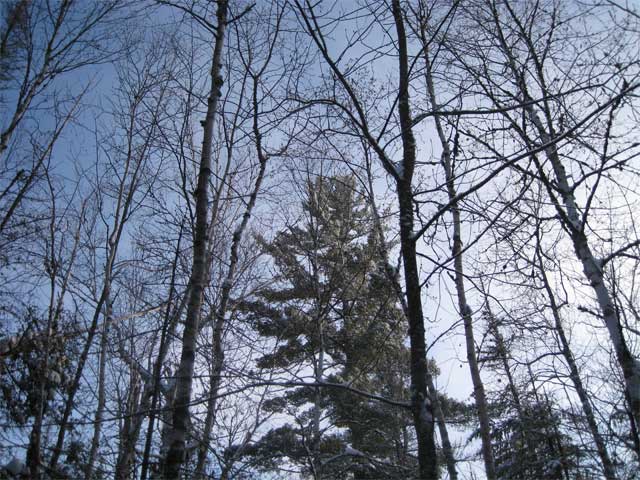 After a little hike up the trail we headed back home before we were too sweaty and cold.  The hike back went just fine.  There were a few spots where we sunk through the top layer of snow into the slush below.  We were quick to hop a head and attempt to soak up the remaining water with dry snow.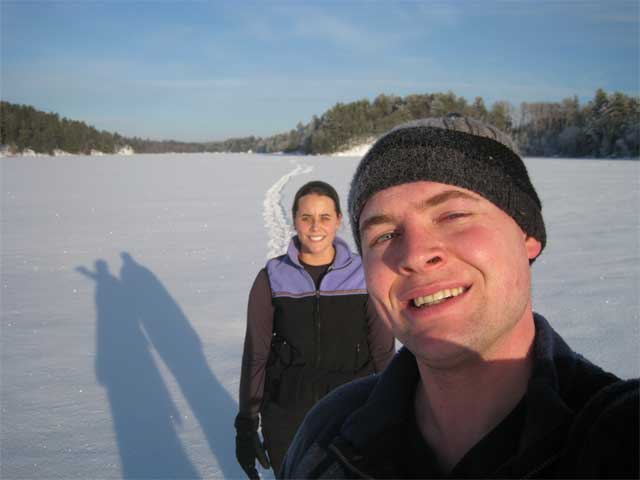 We came home to a warm fire in the wood stove.  The mukluks performed greatly, but they are a bit small for me.  I might run over to Ely and pick up a pair for myself.  I love my bunny boots, but they are a bit heavy for long hiking trips.  The mukluks are nice, light, and warm.  You can check them out at www.mukluks.com.
I am hoping to head out to Hegman Lake this week.  Hegman is where the painted rocks are that we did for one of our first BWCACAST shows.  I am hoping to basically shoot it again, but this time in the winter.  It is supposed to be sunny on Wednesday.  That's the proposed day for the trip.
I am also thinking about driving up to Atikokan Ontario this week to shoot a show for bwcacast on the Souris River Canoe.  They make very nice canoes and its a very small business.  I think it'd be fun to show a behind the scene look on how their boats are made.